1/11/2016 - Family Bonding Trip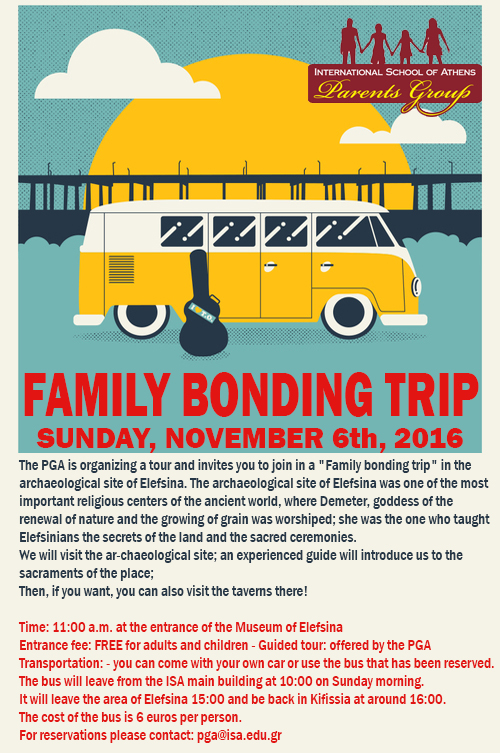 22/9/2016 - Invitation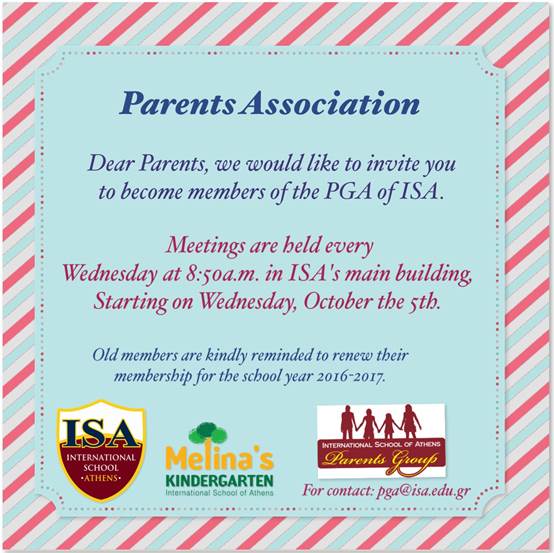 30/08/2016 - Welcome you to ISA for the academic year 2016-2017
30/08/16.
Dear Parents and/or Guardians,
We would like to welcome you to ISA for the academic year 2016-2017 and would like to invite you to the ISA Parents` Group Association (PGA). On Orientation Day you will have the opportunity to become a member or to renew your membership.
The goal of the ISA Parents` Group Association is:
To encourage parent involvement in our school.
To plan and organize activities and events to express the spirit of our school community.
To support collaboration between home and school.
To support and speak on behalf of students and their families to our school administration regarding various practical and educational issues.
To fundraise and support the school as well as various charities of the school`s community.
Throughout the year we organize different events where parents, students, teachers and administrative personnel have the opportunity to spend time together, have fun and enjoy the spirit of the school. Meanwhile, we plan for several actions and raise money for various charities. At the same time, we schedule regular meetings where we discuss different issues in order to support our school in the best possible way!!
We would like to introduce you to the latest Board of Directors and the Auditing Committee:
Board of Directors
President: Marilena Molyviatis – Manthouli
Vice President: Maria Antonopoulou – Kallitsi
General Secretary: Linda Papadimitriou – Ntoumani
Treasurer: Maria Michailidou
Member: Ioanna Pafou – Stergiou
Alternate Members: Philippa Maderakis – Dimakis & Magda Danalis – Geneiadis
Auditing Committee:
Konstantinos Danalis
Katerina Sklavenitis – Delidimou
Katrina Cavadias – Vrettos
Last year we supported the refugees by collecting a quite impressive amount of non-perishable goods, we supported the "Orama Elpidas" Association: Volunteer Bone Marrow Donor and we offered the New Year's Pie (traditional Greek custom) to all the children of ISA. Furthermore, the PGA supported our school by buying eight cordless microphones for Mr. Burk's Drama Class Shows and a new fridge for the Primary School. Additionally a donation of 300 euros was offered to the Social Services of the Municipality of Kifissia.
The participation of the parents in the PGA is extremely important. Through your help and support we can improve our services and reinforce the bonding among all members of the school. We invite you to become members by filling in the form that will be available to all parents during the orientation days. The membership fee is 10 euros per guardian. Once you join, you will be directly informed about all actions of the PGA and you will be more than welcome to actively participate in our meetings and events.
Meanwhile:
On Friday, 2nd of September from 10:00am to 14:00 and on Monday, 5th of September from 15:00 to 17:00 a "Used Books and Second Hand Uniform Sale" will be held at the ISA main campus. If you wish to sell any used books or uniforms please bring them in marked, with your name and requested price.
For further information please feel free to contact us via email address: pga@isa.edu.gr.
We are looking forward to meeting you and discuss with you personally any queries you may have.
Yours sincerely,
Marilena Molyviatis – Manthouli
President